Communication || Accomodations || Prices | E-mail link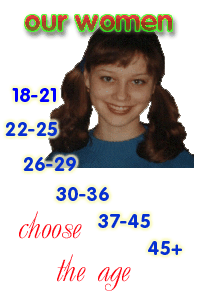 Direct, World-wide E-Mail Service to/from our office in Krivoy Rog, Ukraine
Free On-line VSM Women Catalog with complete contact
information - including full name, postal address, e-mail address, and phone number if available)
Free Introductory Offer for New Customers: Your first two-way e-mail communication is free (limit of one offer per customer - total transfer of 600 words or less)
Free Notification by Telephone - that your document has arrived in our office (local calls only)
Remailing of Documents and Photo Scans (All of Ukraine) - e-mail to postal mail - postal mail to e-mail. A way to dramatically increase the speed of International postal correspondence - to anywhere in Ukraine! Get your letter to anybody first!! Get response back quickly!!
Translation of Documents - English to Russian - Russian to English - Other languages too!
Photo-Quality Color Printing High-Quality Scanning - of documents and photographs
International Telephone Service Krivoy Rog - English/Russian translator is available (and other languages too!)
Courier Delivery of Documents - is available
Transfer of Document Information via Telephone - is available
Special Services
Flower, Gift, and Greeting Card Delivery
Photography - Quality 35 mm snap-shots
Men's Advertisements - in local media
Interviewing, Screening, and Evaluation - of respondents to men"s advertisements
(professional psychologist is available)
Special Requests - by private arrangement
Accomodations in Kiev and Krivoy Rog Apartments - by the day, or by the week. Avoid the high cost of hotels.
Personal Guides and Responsible Drivers - to make the most, of your stay in Ukraine
Personal Translators - to help you to communicate effectively
Free Advice and Recommendations - for clients of VSM Accomodations
Communication || Accomodations || Prices || E-mail link