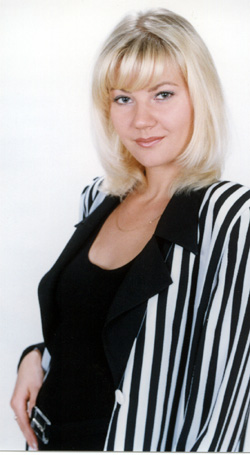 Biodata
E-MAIL: bil@strong.dp.ua
FIRST NAME: Olga
Family NAME: Zabolotnaya
GENDER: female
AGE: 20
Birth Month: September
Birth Day: 30
Birth Year: 1979
ADDRESS:Street: Nezalejnosti Ukraini 10/25
Town: Krivoy Rog
ZIP Code: 50093
COUNTRY OF STATE: UKRAINE
PHONE: +38 0564 724500
HEIGHT: 174 cm
WEIGHT: 58 kg
MEASUREMENT: 88-67-96
NATIONALITY: Ukrainian
EYE COLOR: green
HAIR COLOR: blond
MARITAL STATUS: never been married
CHILDREN: no
RELIGION: Orthodox Christian
SMOKE: no
DRINK: no
DRUGS: no
MAIN SPORTS: jogging, shaping
Hobbies and interests in life: cooking, run hous, travelling, music, reading.
DESCRIPTION: kind, supportive, with good sense of humour,
EDUCATION: student of University
PERFECT MATE
MAX. AGE: 40
MIN. AGE: 25
ETHNICITY: caucasian
Other preferences: educated, cultural man, decent, marriage minded
I would like to answer on letter provided with age, height and photo.