Oxana Tjurina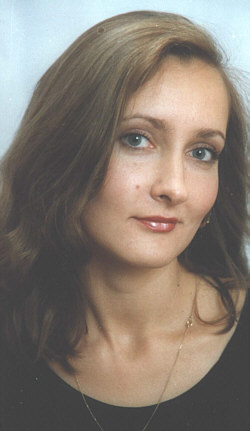 BIODATA
E-MAIL: bil@strong.dp.ua <for Oxana Tjurina> in Subject.
FIRST NAME: Oxana
LAST NAME: Tjurina
SEX: female
AGE: 31
Birth Month: march
Birth Day: 8
Birth Year: 1968
ADDRESS: Moskovskaya str. 9/7, 28 Kherson 325000
COUNTRY: UKRAINE
PHONE: 22-37-75
THE LANGUAGE
TO BE IN TOUCH: Russian, Ukrainian, English (not well)
HEIGHT: 174 cm
WEIGHT: 60 kg
ETHNICITY: Ukrainian
EYE COLOR: green
HAIR COLOR: blonde
MARITAL STATUS: divorced
CHILDREN: son
RELIGION: christian
HOBBIES: My hobbies include sports, music, movies, theatre, reading and
travelling
EDUCATION: 3 years of commercial college
OCCUPATION: I am working in private firm
YEARS WORKED: 3 years
PERFECT MATE
AGE: 35-45 y.o.
ETHNICITY: White
OTHER PREFERENCES: I wish to meet an decent, affectionate, educated,
merry, stable man.