Tatyana Dyzenko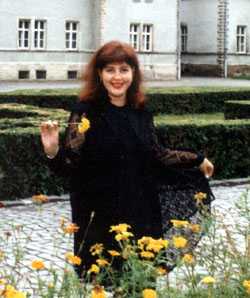 BIODATA
E-MAIL: bil@strong.dp.ua
FIRST NAME: Tatyana
Family NAME: Dyzenko
GENDER: femail
AGE: 31 years old
Birth Month: January
Birth Day: 11
Birth Year: 1969
ADDRESS:Street: per. Bulvarnyy, 16/26
Town: Krivoy Rog
ZIP Code:50071
COUNTRY OF STATE: UKRAINE
County or nation: Ukraine
PHONE: 0564 44 50 72
THE LANGUAGE
TO BE IN TOUCH: English, Russian
HEIGHT: 167 cm
WEIGHT: 71 kg
MEASUREMENT: 100cm x 76cm x 110cm
NATIONALITY: Ukrainian
EYE COLOR: hazel
HAIR COLOR: light brown
MARITAL STATUS: single
CHILDREN: none
I want children in future
RELIGION: Orthodox Christian
PETS: dogs, parrots
SMOKE: no
DRINK: no
DRUGS: no
MAIN SPORTS: swimming, tennis
Hobbies and interests in life: growing window-plants, music, travelling,
outdoors activities.
DESCRIPTION: responsible, well-wishing, I can create home coziness, kind.

EDUCATION: higher pedagogical
OCCUPATION: a teacher at school
YEARS WORKED: 9 years
PERFECT MATE
MAX. AGE: 45
MIN. AGE: 32
BUILD: normal
ETHNICITY: Caucassian
OTHER PREFERENCES: patient, caring, considerate, reliable, educated,
good-hearted, with a sense of humour. My chosen one
will become an indispensable friend and adviser
for me.