Lyudmila Sidorenko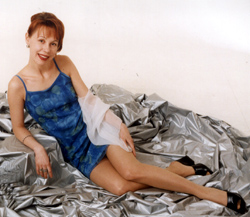 BIODATA
E-MAIL: bil@strong.dp.ua <for Lyudmila Sidorenko> in Subject.
FIRST NAME: Lyudmila
LAST NAME: Sidorenko
SEX: female
AGE: 28
Birth Month: July
Birth Day: 09
Birth Year: 1971
ADDRESS: Oktyabrskaya Str., 3/6, Krivoy Rog, 50099
COUNTRY: UKRAINE
PHONE: +38 0564 295305
THE LANGUAGE
TO BE IN TOUCH: German, English
HEIGHT: 168 cm
WEIGHT: 55 Kg
MEASUREMENT: 80-60-94
ETHNICITY: Ukrainian
EYE COLOR: green
HAIR COLOR: dark
MARITAL STATUS: widow
CHILDREN: son 8 years old
RELIGION: Ortodox Christian
PETS: dog, cat
SMOKE: no
DRINK: no
DRUGS: no
ENGLISH: well
MAIN SPORTS: shaping, bycicle
MAIN HOBBIES: dancing, floristic, art, reading,
gardening, fishing
DESCRIPTION: I am romantic, lovely, conflictness,
with good moral's volumes, smart, sensitive,
honest, humorous, like to life, sophisticated.
EDUCATION: high, faculty of philologic in University
OCCUPATION: teacher of German language
YEARS WORKED: 6
SPECIAL TRAINING: massage
PERFECT MATE
MAX. AGE: 42
BUILD: over 170 cm
ETHNICITY: white, European, American
OTHER PREFERENCES: warm-hearted, trustworthy, intelligent
fun-loving, well educated, man which laves children
and good family relations.