Natalya Rudakova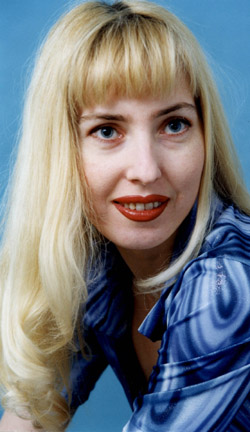 BIODATA
E-MAIL: bil@strong.dp.ua
FIRST NAME: Natalya
Family NAME: Rudakova
GENDER: female
AGE: 31
Birth Month: May
Birth Day: 16
Birth Year: 1968
ADDRESS:street or P.O. Box: Tsiolkovskogo 16/1
Town or place where you are living: Krivoy Rog - 50005
ZIP Code:
COUNTRY OF STATE: UKRAINE
County or nation: Ukraine
PHONE: -
THE LANGUAGE
TO BE IN TOUCH: English
HEIGHT: 175cm
WEIGHT: 58 kg
MEASUREMENT: 90 x 64 x 94
NATIONALITY: Ukrainian
EYE COLOR: blue
HAIR COLOR: blonde
MARITAL STATUS: divorced
CHILDREN: 1 boy of 10 y.o.
RELIGION: Orthodox Christian
PETS: dogs, cats
SMOKE: no
DRINK: no
DRUGS: no
ENGLISH: a little
MAIN SPORTS: shaping, jodding
MAIN HOBBIES: music, books, travelling, making dresses, cooking, knitting
cosy home
DESCRIPTION: kind, hospitable, generous, honest, faithful, decent, sincere,
cheerful, humorous, caring, self-employed.
EDUCATION: vocational school
OCCUPATION: self employer
YEARS WORKED: 13 years
SPECIAL TRAINING: technical college
PERFECT MATE
MAX. AGE: 55
MIN. AGE: 35
BUILD: average
ETHNICITY: American, Englishman, European
OTHER PREFERENCES: independent, responsible, honest, kind-hearted, protective,
outgoing, family-oriented, generous, caring, serious.