Irina Perepada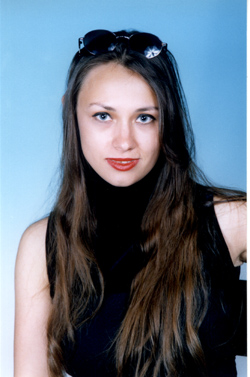 Biodata
E-MAIL: bil@strong.dp.ua
FIRST NAME: Irina
Family NAME: Perepada
GENDER: femail
AGE: 27
Birth Month: November
Birth Day: 13
Birth Year: 1973
COUNTRY OF STATE: UKRAINE
County or nation: Ukraine
PHONE: 745484
HEIGHT: 162 cm
WEIGHT: 56 kg
MEASUREMENT: 90-66-94
EYE COLOR: grey
HAIR COLOR: brown
MARITAL STATUS: divorced
CHILDREN: two daughters of 3 y.o. and 7 y.o.
(I'd like to have more children someday)
RELIGION: Christian Orthodox
SMOKE: no
DRINK: no
DRUGS: no
Hobbies and interests in life: music, cooking, reading, run house
DESCRIPTION: optimist, hard working, good sense of humour
EDUCATION: college
OCCUPATION: housewife
PERFECT MATE
MAX. AGE: 45
MIN. AGE: 25
BUILD: not very important
ETHNICITY: caucasian
OTHER PREFERENCES: decent, marriage minded, supportive
I would like to answer on letter provided with age, height and photo.