Ludmila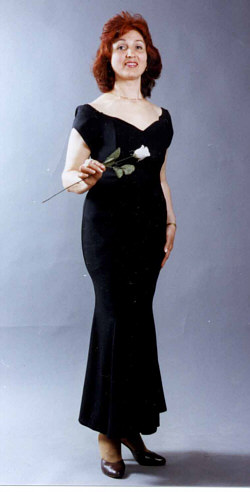 BIODATA
E-MAIL: bil@strong.dp.ua <for Lyudmila Linchevskaya> in Subject.
FIRST NAME: Lyudmila
LAST NAME: Linchevskaya
AGE: 47 y.o.
Birth Month : 04
Birth Day : 14
Birth Year : 1952
ADDRESS: Ukrainskaya str,. 1/162, Krivoy Rog, 324091, Ukraine
COUNTRY: Ukraine
PHONE: +38 0564 28 06 34
THE LANGUAGE
TO BE IN TOUCH: Russian or English
HEIGHT: 168cm
WEIGHT: 62 kg
MEASUREMENT: 92/63/84 cm
ETHNICITY: Ukrainian
EYE COLOR: gray - blue
HAIR COLOR: brown
MARITAL STATUS: divorce
CHILDREN: a girl, 9y.o.
RELIGION: Orthodox Christian
PETS: no
SMOKE: no
DRINK: no
DRUGS: no
ENGLISH: rather poor
MAIN SPORTS: Jogging
MAIN HOBBIES: gymnastics-haltha-jogy, reading, music,
dancing, theatre, hiking, stralling, swimming.
DESCRIPTION: I am analitic-curiouse-imentive-ingemous-faithful-
romantic-sensual-painstaining-exacutive-feminine with minor-
velaety vouce. I enjoy children and I am serious about their
upbpinging.
EDUCATION: University
YEARS WORKED: 20
SPECIAL TRAINING: mastering courses of English
PERFECT MATE
MAX. AGE: 60 y.o.
BUILD: 1m68cm and more
ETHNICITY: White
OTHER PREFERENCES: I seek sympatic-humane-attentive-who seeks
unity in his life.