Natalia Kirilenko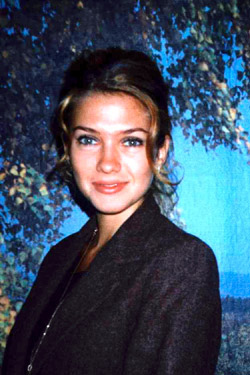 BIODATA
E-MAIL: bil@strong.dp.ua <for Natalia Kirilenko> in Subject.
FIRST NAME: Natalia
LAST NAME: Kirilenko
SEX: femail
AGE: 21
Birth Month : May
Birth Day : 31
Birth Year : 78
ADDRESS: Ukrainskaya str., 61/33 Krivoy Rog Ukraine 324024
COUNTRY: Ukraine
PHONE: no
THE LANGUAGE
TO BE IN TOUCH: English, Russian
HEIGHT: 1.72 centimetre
WEIGHT: 52 kilogram
MEASUREMENT: 86 - 60 - 89
ETHNICITY: Russian
EYE COLOR: Green
HAIR COLOR: fair
MARITAL STATUS: Never married
CHILDREN: no
RELIGION: Orthodox christian
PETS: cats
SMOKE: no
DRINK: no
DRUGS: no
ENGLISH: Good spoken english.
MAIN SPORTS: skiing, shaping
MAIN HOBBIES: travel, theatre, music, art, sport so on.
DESCRIPTION: I am intelligent, tender, romantic and Kind girl. Of course I
am cheerful. I like this life.
EDUCATION: University. English for primary school.
OCCUPATION: no
YEARS WORKED: -
SPECIAL TRAINING: I have finished the school of Art.
PERFECT MATE
MAX. AGE: 30
BUILD: athletic
ETHNICITY: European
OTHER PREFERENCES: It would be better if this man doesn't have a drinking
problems. I like sincere, reliable, calm, kind and
sociable person. I should like he has a high education.