Ruslana Hridina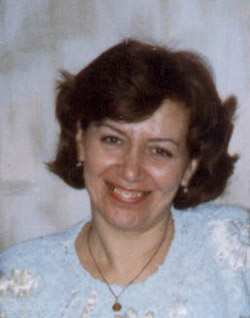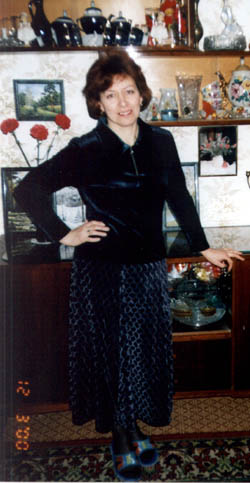 Biodata
E-MAIL: bil@strong.dp.ua
FIRST NAME: Ruslana
Family NAME: Hridina
GENDER: female
AGE: 48
Birth Month: August
Birth Day: 24
Birth Year: 1952
ADDRESS:street or P.O. Box: Gruni Romanovoy 6/12
Town or place where you are living: Krivoy Rog
ZIP Code: 50026
COUNTRY OF STATE: UKRAINE
County or nation: Ukraine
PHONE: +38 0564 212302 home
THE LANGUAGE
TO BE IN TOUCH: English
HEIGHT: 1m65cm
WEIGHT: 65 kg
MEASUREMENT: 96 x 75 x 110
NATIONALITY: Ukrainian
EYE COLOR: light brown
HAIR COLOR: light brown
MARITAL STATUS: divorced
CHILDREN: daughter
Do you already have children? (If the answer is yes, please give
details, including how many, what ages, and how they are being supported.)

Do you want children someday? no
PETS: cat
SMOKE: no
DRINK: no
DRUGS: no
Languages that you speak or write: ---------
MAIN SPORTS: swimming in pool
Hobbies and interests in life: art, trawelling

DESCRIPTION: honest, unconflicted, life-targested, compliant, purposeful.


EDUCATION: high musical
OCCUPATION: teach of piano playing in University
YEARS WORKED: 30
SPECIAL TRAINING: drive license, sewing.

PERFECT MATE
MAX. AGE: 60
MIN. AGE: 48
BUILD: without extra weight, no less then 1m70cm
ETHNICITY: Caucasian
OTHER PREFERENCES: I should like to meet quite, inteligent, educated man from
Scandinavian countries, Germany or Canada.