Marina Guk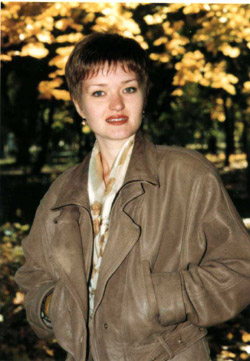 Biodata
E-MAIL: bil@strong.dp.ua (For Marina Guk) in Subject.
FIRST NAME: Marina
LAST NAME: Guk
ADDRESS: Leontovicha str,12 Krivoy Rog, 324072, Ukraine
PHONE: +38 0564 28 02 15
DATE OF BIRTH: July 4, 1977
AGE: 22
HEIGHT: 164 cm
WEIGHT: 50kg
MEASUREMENT: 86cm x 63cm x 93cm
ETHNICITY: Ukrainian
EYE COLOR: green
HAIR COLOR: light brown
MARITAL STATUS: unmarried
CHILDREN: no
RELIGION: christian orthodox
PETS: dogs, parrots
SMOKE: no
DRINK: no
ENGLISH: poor
MAIN SPORTS: running, table tennis
MAIN HOBBIES: Reading, music, evening walks, knitting, association
with friends, traveling, dancing
DESCRIPTION: Cheerful, sociable, responcible, very friendly, understanding, not
lazy, warm, caring, neat, honest, family - oriented, faithful.
EDUCATION: The 5th year student of the mining institute
PERFECT MATE: Kind, generous, faithful, dependable, sociable, easy - going,
open - minded, joyful, with good sence of homuor.
MAX. AGE: under 40
BUILD: not important
ETHNICITY: White
OTHER PREFERENCES: Socially drinker, outgoing, financially secure, addiction -
free.