Natasha Dzhunkovskaya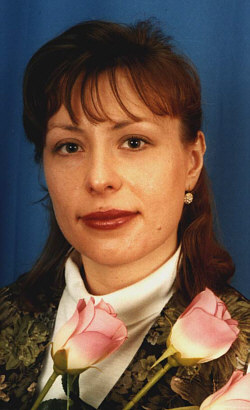 BIODATA
E-MAIL: bil@strong.dp.ua <for Natasha Dzhunkovskaya> in Subject.
FIRST NAME: Natasha
LAST NAME: Dzhunkovskaya
SEX: female
AGE: 30 y.o.
Birth Month: September
Birth Day: 20
Birth Year: 1969
ADDRESS: Krivoy Rog 50063 Tukhachevskogo str., 61/28
COUNTRY: UKRAINE
PHONE: +38 0564 664580
ENGLISH: not well
HEIGHT: 165cm
WEIGHT: 60 kg
MEASUREMENT: 93cm x 74cm x 102cm
ETHNICITY: Ukrainian
EYE COLOR: green
HAIR COLOR: brown
MARITAL STATUS: I am not married and I was not married at all
CHILDREN: no
RELIGION: christian
SMOKE: no
DRINK: no
DRUGS: no
MAIN SPORTS: aerobica, shaping, lown tennis
MAIN HOBBIES: music, cooking
DESCRIPTION: honest, communicative, with high moral values. I like to take
care of some other person
EDUCATION: high technical
OCCUPATION: seller in privat shop
YEARS WORKED: 10 years
PERFECT MATE
MAX.AGE: 30 - 45 years old
ETHNICITY: white
OTHER PREFERENCES: careful, honest, tender man which loves children
and family.