Alla Dolenko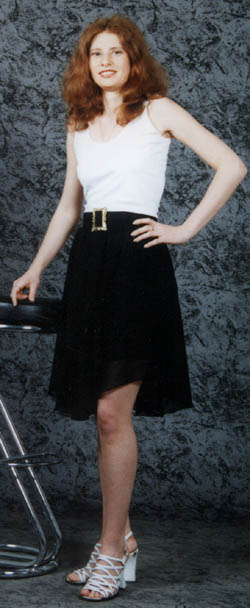 BIODATA
E-MAIL: bil@strong.dp.ua
FIRST NAME:Alla
Family NAME: Dolenko
GENDER: Femalle
AGE: 25y.o.
Birth Month:November
Birth Day: 28
Birth Year: 1974
ADDRESS:Street: pr-kt.Mira 26-2
Town:Krivoy Rog
ZIP Code:50069
COUNTRY OF STATE: UKRAINE
County or nation:Krivoy Rog
PHONE: +38 0564 740725
THE LANGUAGE
TO BE IN TOUCH: English a little
HEIGHT: 163cm.
WEIGHT: 50kg.
MEASUREMENT: 80-66-90.
NATIONALITY: Ukrainian
EYE COLOR: green
HAIR COLOR: red
MARITAL STATUS:not married
Children No
I'd like to have more children someday
RELIGION: Ortodox Christian
PETS: cats
SMOKE: NO
DRINK: Occasionally
DRUGS: No
Languages that you speak or write:English a litlle
MAIN SPORTS: swimming,shaping.
Hobbies and interests in life:music,dancing.

DESCRIPTION: kind,trustful,joyful,devoted.


EDUCATION: student of pedagogical university.
OCCUPATION: secretary of pedagogical university.
YEARS WORKED: 7 years.
SPECIAL TRAINING: hairdresser,secretary,accountent.

PERFECT MATE
MAX. AGE: 37
MIN. AGE: 25
ETHNICITY: Caucasian (except Muslim)
OTHER PREFERENCES: kind,not greeedy.
I would like to answer on letter provided with age, height and photo.