Apartments Kiev.........
45, Saksaganskova Street: US $50 / day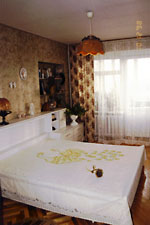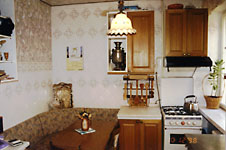 This very fine 1-bedroom flat is located in a prime location, 6 blocks from Kreschatic Street (Center of Kiev). The metro station is 3 blocks away. There are at least 6 supermarkets within 4 blocks, one of which is open 24 hours. There are many good restaurants in the immediate area. Uncle Sam's is one block away, and the Atlanta is only two blocks - there are many others.
Location is 5th floor, with 2 elevators in the building. Flat has been completely remodeled and includes the following:
Very Large Bedroom
Full kitchen with refrigerator, stove, cooking utensils, and telephone
Toilet Room - yes, it has toilet paper!
Bath Room with sink, bath tub, shower, towels, and soap
Large main room with Color Cable Television, Boom-box stereo with radio-CD-cassette, sofa and two upholstered chairs.
Living room has full view through large enclosed balcony
New wood floors and tasteful furnishings/decoration throughout
$50 deposit - balance due in cash US dollars - upon arrival.